crackedpots is celebrating the 20th anniversary of our Reuse Art Show – Cascadia's longest running reuse, reclaimed, and upcycled artwork event!
Join us at McMenamins Edgefield to celebrate 20 years of supporting creative reimagining and reuse in waste reduction!
Image Credits: Ladybugs - Faron Evans, Shovel - Kay Sims, Lath - Heather Kobo
crackedpots show poster retrospective
Please enjoy a walk through crackedpots reuse art show history with these vintage show posters and articles! We've searched our archives and found some gems. Take a look back in time and help us celebrate the last 20 years of creativity and community!
If you don't see a poster it's because we don't have it! We do have some posters without a year. If you have any information on our mystery poster's dates, or if you have any missing posters - please let us know by emailing artistinfo@crackedpots.org. Help us complete the set and capture crackedpots history.
crackedpots reuse artists in their own words
I retired from my hospital based practice to become a reuse artist. No more solving medical problems in my dreams, now I wonder how to fashion metal baseball bats into a free standing elk.
Reuse art show are special because it takes a special kind of person and creativity to create with recycled items. It takes a really creative eye to see art in trash.
The group of Crackedpots artists have been extremely supportive and I feel I've made wonderful contact and friendships through the group.
My husband and I traveled to Troutdale for one of the earliest shows. I saw more creativity exhibited there than many art galleries. Along with the art, what creating from recycled material does for our environment is very important to me. lindab@bendcable.com
20 years ago, before I was an artist, I was a welder at an RV, refrigeration company. You can say I quit my day job. I have been a full time artist ever since.
I am thankful for the lasting community I have become a part of. Cracked Pots has become a huge part of my life and I am fortunate to be a part of the art show for the past 10 years. Smokincoyote@hotmail.com
My grandmother, my mother, my aunt were all artists and photographers and musicians. My children currently are very involved in the skills of upcycle and reuse as well as my grandchildren who love what grandma does.
CrackedPots was the first show I ever participated in. I created Indio Metal Arts shortly after and have done every show since 2013.
Each year at CrackedPots I meet amazing artists in the reuse community. We get to know each other during the show. With several, we follow each other on social media throughout the year and we continue to support each other. Some have become great friends. We all look forward to seeing each other again the following year.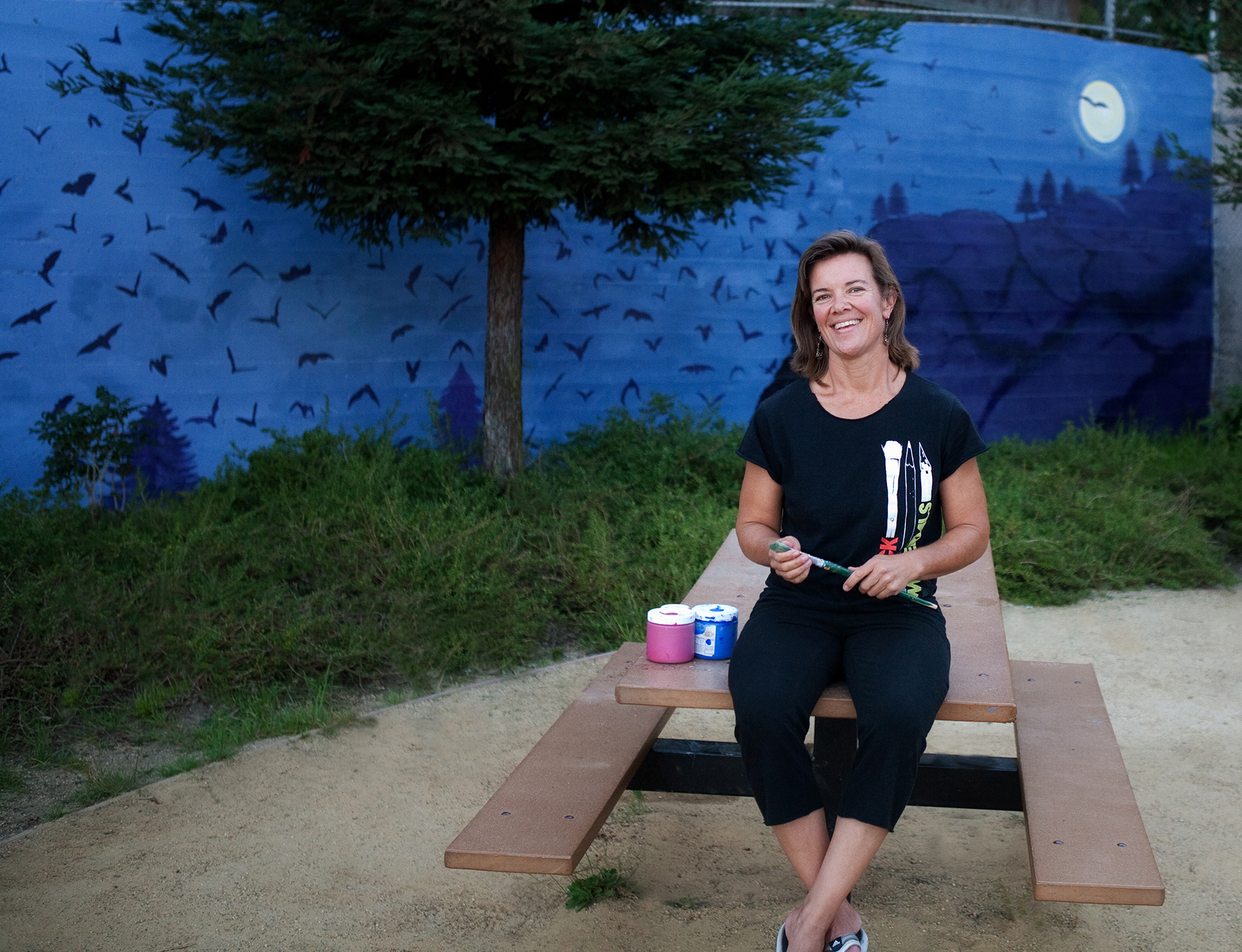 I feel like these are "my people" more than the fancier galleries, for example. It's great to be surrounded by folks who have the same gene for finding possibility in almost any odd thing. pam@allhandsart.com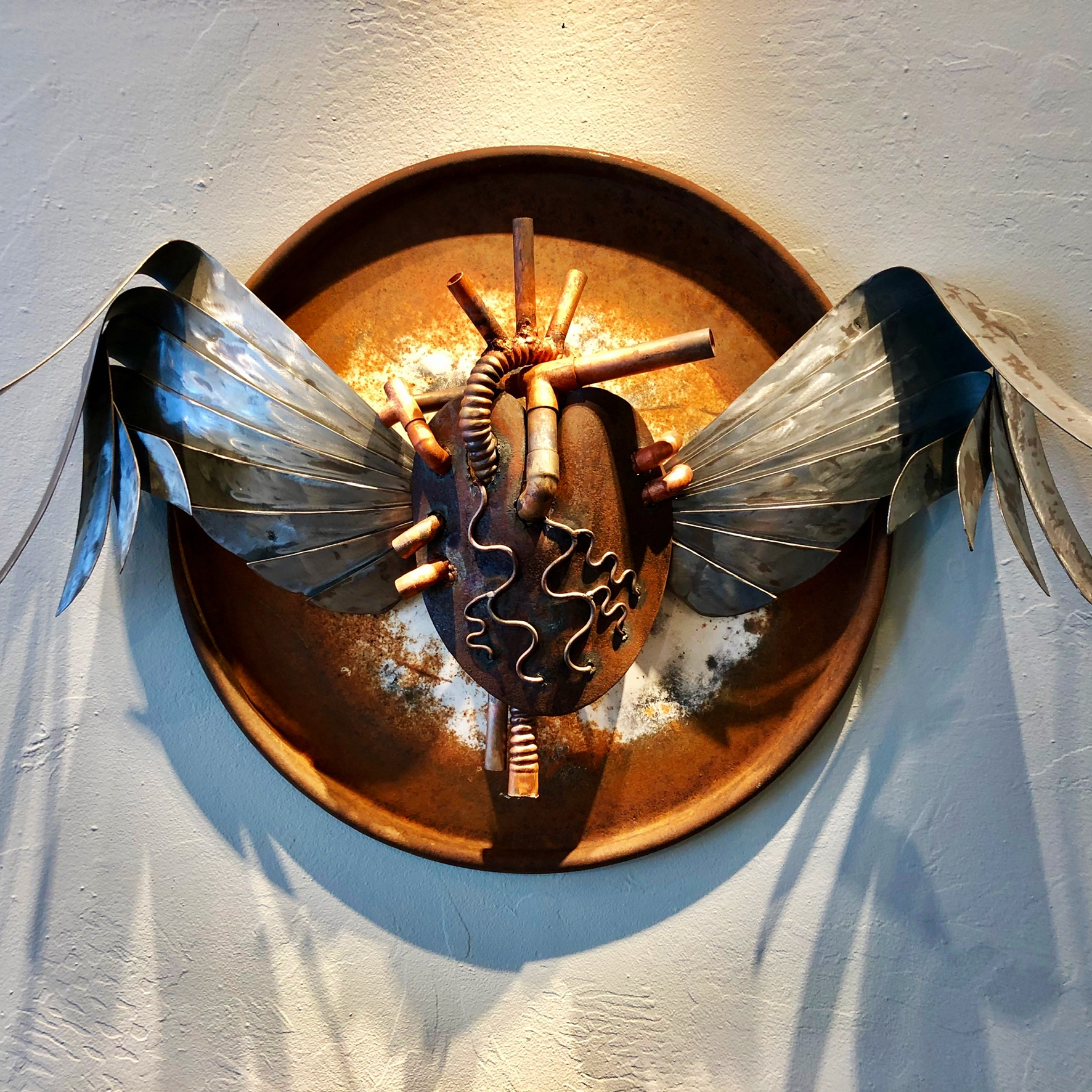 Having such a beautiful venue as McMenamins Edgefield, and such a huge and loyal following of art lovers as this show does, always inspires me to create my best work.
I actually have been able to quit my day job (for the most part) and the crackedpots show has played a major role making that happen.
I want people to see that work based on recycling doesn't mean old plastic forks glued together...it's something more. There's some incredible art out there. The public just has to get past the stigma of "garbage" being art. It's funny. There's a concern with fabric, especially.
Art shows that feature recycled items are really valuable to me. Since my robot sculptures do not fit in a mainstream craft fair, I have few sources for retail sales except for Cracked Pots and on-line. cutupqn@gmail.com
I started as a painter and muralist. Cracked Pots has helped give me confidence to fully embrace my true love of vintage and recycled assemblage.
The show has inspired me to create bigger and more involved pieces because the patrons of the show are so appreciative of recycled art. Gretchenw5@yahoo.com
After a dozen years of attending Cracked Pots, as well as collecting pieces from many artists, I was inspired to start creating my own reuse art from the myriad of reclaimed materials I had collected over the years. I decided to take early retirement after finding a great sense of accomplishment & joy in creating art with salvaged materials. marymocat@yahoo.com